Readers of the blog might think I am only working on iPhone stuff, but in fact I am programming WPF for 40 hours a week. I am glad, because C# / WPF is a lot better then Objective-C / Cocoa Touch.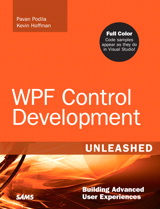 Last week I got the latest book of SAMS publishing about WPF. I did recommend the Windows Presentation Foundation Unleashed before, but now they have a new book. It's called WPF Control Development Unleashed.
The previous book is still the best book out there, if you want to get started on WPF development. If you're already an experienced WPF developer and develop your own WPF controls or use advanced layout scenarios, then the new book is for you. I am an experienced WPF developer (over two years 40 hours/week pure WPF programming), but there was enough in this book to pay $50 for it.
When you're serious about WPF programming and think you know already a lot about it, then you should order this book right away.